Key measures are updated once a month. The data for these measures starts on February 1 and was last updated on October 31, 2023.
It is estimated that up to 400,000 individuals or families are eligible for WFTC in this first year.
---
Key measures
Applications received: 188,855
Percentage of applications received from ITIN filers: 9.30%*
*An application is considered received from an ITIN filer if any of the primary, spouse, or children on the application have an ITIN.
Amount refunded: $112.2 M
Visitors to website: 850,216
Calls received: 41,549
Percentage of applications received by county
Image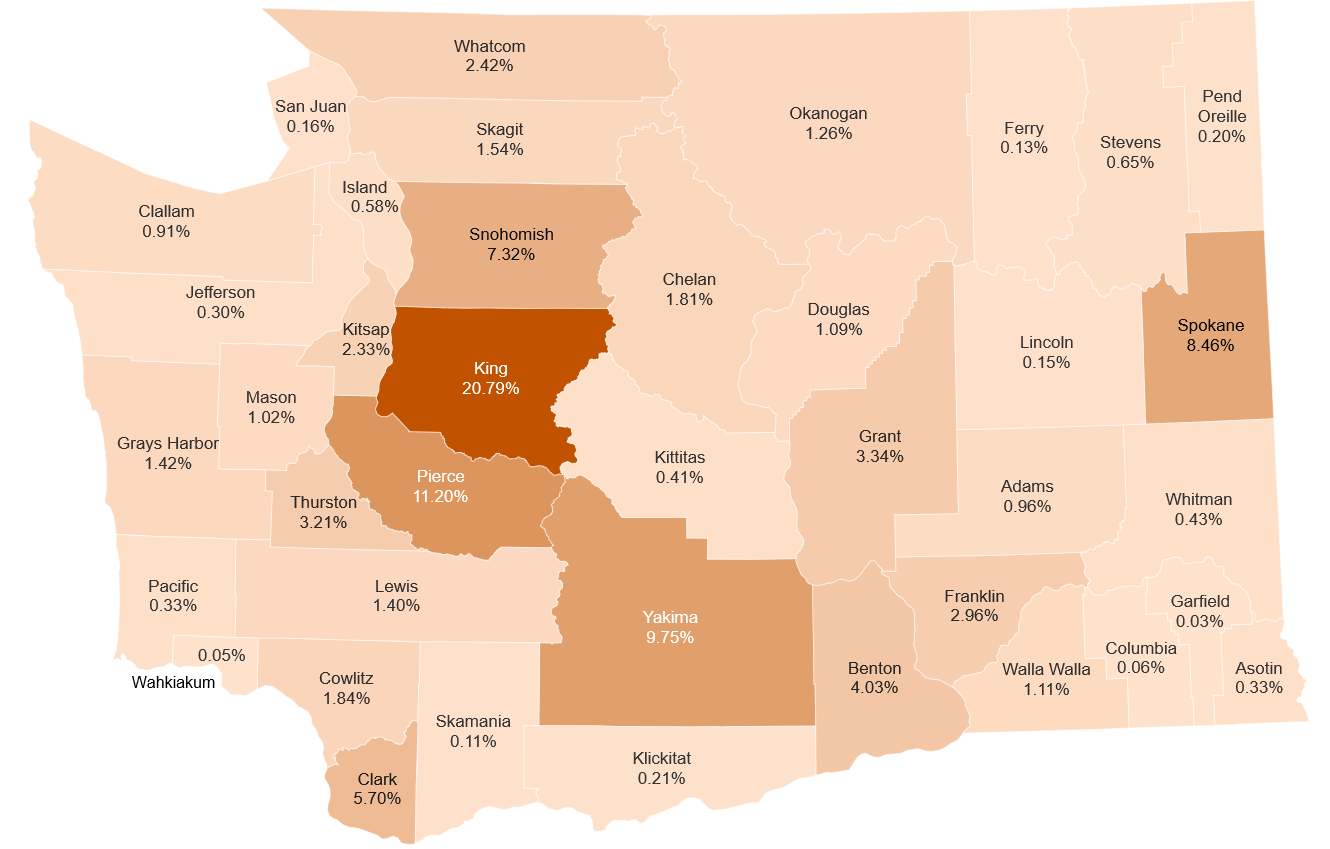 | | |
| --- | --- |
| County​ | % (high to low)​ |
| King​ | 20.76%​ |
| Pierce​ | 11.20%​ |
| Yakima​ | 9.75%​ |
| Spokane​ | 8.46%​ |
| Snohomish​ | 7.32%​ |
| Clark​ | 5.70%​ |
| Benton​ | 4.03%​ |
| Grant | 3.34%​ |
| Thurston​ | 3.21%​ |
| Franklin​ | 2.96%​ |
| Whatcom | 2.42%​ |
| Kitsap | 2.33%​ |
| Cowlitz | 1.84%​ |
| | |
| --- | --- |
| County​ | % (high to low)​ |
| Chelan | 1.81%​ |
| Skagit | 1.54%​ |
| Grays Harbor | 1.42% |
| Lewis | 1.40%​ |
| Okanogan​ | 1.26%​ |
| Walla Walla | 1.11%​ |
| Douglas | 1.09%​ |
| Mason | 1.02%​ |
| Adams | 0.96%​ |
| Clallam | 0.91%​ |
| Stevens​ | 0.65%​ |
| Island​ | 0.58%​ |
| Whitman​ | 0.43%​ |
| | |
| --- | --- |
| County​ | % (high to low)​ |
| Kittitas​ | 0.41%​ |
| Pacific​ | 0.33%​ |
| Asotin | 0.33%​ |
| Jefferson | 0.30%​ |
| Klickitat​ | 0.21%​ |
| Pend Oreille​ | 0.20%​ |
| San Juan​ | 0.16%​ |
| Lincoln | 0.15%​ |
| Ferry​ | 0.13%​ |
| Skamania​ | 0.11%​ |
| Columbia | 0.06%​ |
| ​Wahkiakum​ | 0.05%​ |
| Garfield​ | 0.03%​ |
Applications received by channel
Image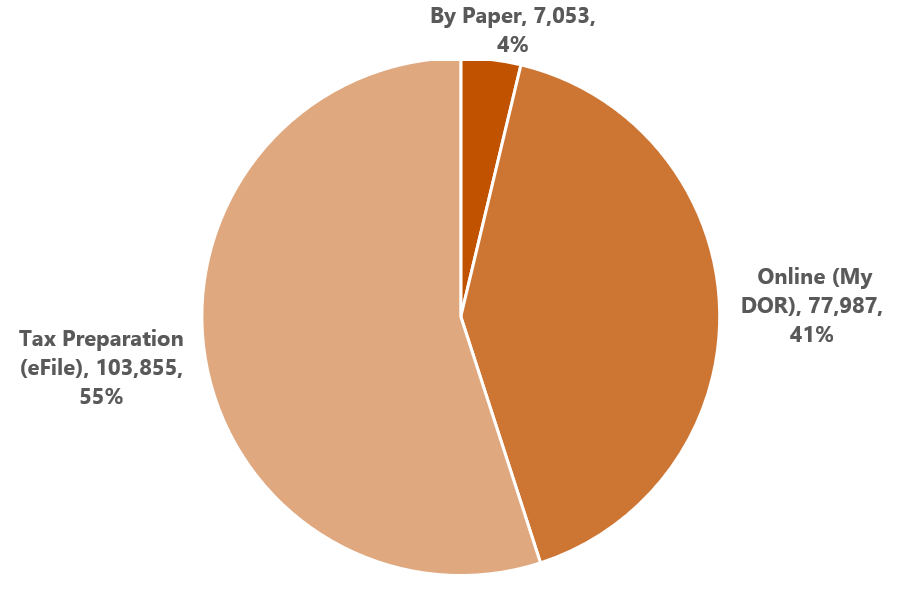 Total applications received
By paper: 7,053
Online (My DOR): 77,987
By tax preparation (eFile): 103,815